The moment is ideal!
With the pandemic having accelerated online retail by five years, venturing onto this train can be a wise choice even if you haven't had any experience with e-commerce before.
Shopify is an industry-leading e-commerce solution that enables entrepreneurs to showcase and sell their products internationally.
Their online stores offer an array of tools for launching and maintaining a successful business venture. These include web hosting, payment processing, inventory management, and numerous marketing options.
These features, as well as SEO strategies, can assist in building a lucrative business, for the entrepreneur willing to put in the time and effort.
Here are some factors which can increase a store's profitability. Consider them when setting up your store:
1. Determining the ideal store product for your business 
The product that you are selling is the most important factor for a Profitable Shopify store. If the product isn't good enough, No one will buy your product.
For Example: If you are marketing a blazer that can be purchased throughout the country, it will be difficult for success to come your way.
If the item is unique and possesses an innate capability of solving an existing issue then the chances of its succeeding increase manifoldly.
2. Get noticed by a relevant audience
For Shopify store owners, Facebook Ads are generally considered an excellent tool for generating traffic to their eCommerce website. Its highly targeted format enables business owners to effectively reach out to customers with products that match their needs and preferences.
3. Discover the ideal price
Product pricing is a significant factor that influences the profitability of your Shopify Store. Once you find the winning product, you must price it judiciously so as not to be excessively expensive or too inexpensive.
For low-ticket products such as those selling for $20 per unit on average without marketing costs might yield minimal profits while higher-end ones may generate significantly more profit depending on their value relative to others in the marketplace.
4. The significance of the Shipping Time cannot be overstated.
Shipping time is a major concern for Shopify users. Providing your item quicker is always appreciated by clients; therefore, be sure to utilize a dependable delivery partner.
Investigating the pros and cons of Aliexpress as per dropshipping needs would be an ideal decision to make! It can present both challenges and rewards - scaling up your operation may prove tricky but when it finally does succeed there are certain exclusions such as lengthy deliveries or costs associated with shipping-related expenditures that could potentially impede success.
5. Customer Support is paramount
Customer service is a vital component of any eCommerce store, as people prefer to seek after-sales services such as refund guarantees and replacements before making a purchase. So make sure you are detailed with all the offerings that your store provides and don't forget to include those which cannot be provided. And always be there for your customer.
6. Establish Trust
Why do people choose to source goods from Amazon, eBay and other outlets?
Quite simply - they trust these providers. They provide top-notch products along with a solid after-sale service. That's precisely what you should strive for to earn customer loyalty; build trust so that visitors may return to your Shopify store for additional purchases.
Some ways to build trust among your audience for a business are:-
Engage with your audience: Respond to comments, answer questions, and start conversations to build relationships.

Be transparent: Be honest about your products or services and share relevant information with your audience.

Follow through on promises: If you make a promise, keep it. Doing what you say you will do is essential for building trust among your audience.

Provide value: Provide services and products that add value to your audience and resonate with their needs and interests.

Make customer service a priority: Respond quickly to customer inquiries and complaints, and always strive to provide excellent customer service experiences.

Ask for feedback: Invite customers to share honest feedback on their experiences with your business or products so that you can improve.

Let them know everything: Include all the legal pages like Return policy, terms, and conditions, Shipping policy - everything related to contractual obligations.
Maximizing profitability in your Shopify store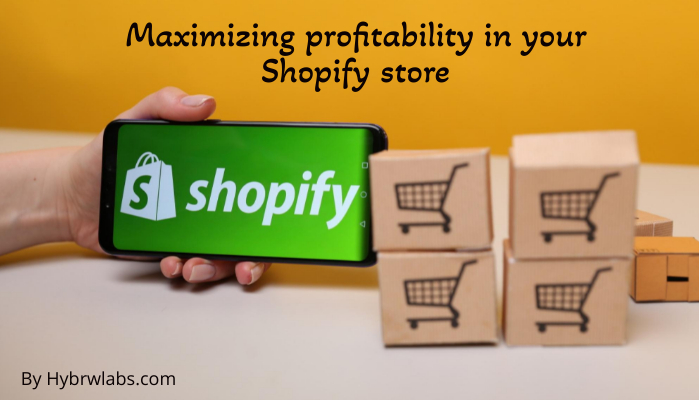 Once you build your Shopify store, you must comprehend that it may take some time to achieve financial success. Therefore, be patient as your business gets off the ground - and devote attention to certain aspects of online sales before profiting from them significantly. Fortunately for merchants interested in accelerating growth with the Shopify-based commerce platform; countless experts will contribute immensely to elevating profitability potentials. Thus, by following an effective business strategy; creating a lucrative Shopify store could be achieved!
Developing a plan 
When building a successful business, it is essential to set attainable goals for your Shopify store. Establishing revenue and traffic targets will help you discern if the shop is profitable before going oversize. Don't forget to give yourself a realistic figure so that when it's achieved, success can be recognized with confidence!
Ensuring that your Shopify store is well-defined and optimized for traffic maximization is key to maximizing profit. With the wealth of analytics available on Shopify's platform, you can determine how many visitors come to your site every day.
Gain firsthand knowledge of the people you serve
It should be your ultimate goal to sell only those products that customers prefer, for they are the ones who will make you reach your goals. Therefore, you must perform thorough research into the needs of your target customers so that you can provide them with items or services which adequately fulfill their requirements. When setting up a Shopify-powered store, consider creating strategies for reaching out and obtaining feedback from visitors; in this way as well as utilizing surveys after product purchase - an effective means for determining consumer preferences towards offerings within the store.
Optimize your sales funnel
If you find yourself struggling with optimization tasks, then be sure that your sales will remain stagnant: test and tweak them until they're fully optimized for maximum effectiveness! Sales funnels can expedite the process of directing potential customers towards products and encouraging purchases by offering an efficient path to selling more products. Developing a robust customer base typically leads to increased revenue generation - so keep testing those pesky optimizations!
Market Your Store in a competitive manner
To entice potential buyers, you must vouch for the opening of your storefront by engaging with various channels. Fortunately, Shopify provides you with a multitude of options from which to disseminate information about your business ranging from social media and marketing platforms to email marketing and search engine optimization (SEO). Utilizing these strategies can ensure effective promotion for any Shopify store.
Assess the numbers 
It is essential to continue re-examining your prices and markups to ensure that you are not losing money through misjudged pricing. Before listing any product on your Shopify store, you must calibrate accurately to ascertain how much of a financial gain can be expected after all costs are subtracted - as Shopify takes a percentage from each sale. So remember also that this must be considered when establishing profit margins!
To ensure your Shopify store doesn't resemble any of the countless ordinary storefronts, consider opting for a distinct theme or enlisting the services of an experienced freelancer. Those who recognize Shopify and Dropshipping may well demur at placing an order from such sites - and if they happen to come upon it then chances are they'll be unwilling to trust you. If possible, create a different look altogether; this could help boost your sales!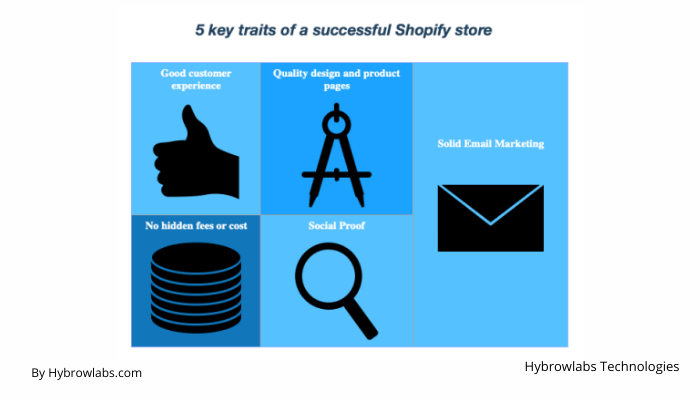 To finally answer the question - "Are Shopify stores profitable?"
Indeed, Shopify stores can be lucrative endeavors, yet there are a host of external factors that may affect profitability. Key among them will always be the cost of goods sold; while also taking into account pricing and overhead charges must remain within reason--let alone any marketing expenses incurred!
It is essential to put in place all the appropriate measures for optimal search engine visibility of your store. Ultimately, it is also critical to ascertain that you are pricing products appropriately and targeting the most suitable markets.
On the whole, Shopify stores are lucrative ventures, but one must weigh in all factors before establishing one.