ReactJS Development has become increasingly popular among businesses as they look to enhance their digital transformation strategies. With its scalability, speed, and component-based structure, ReactJS has completely changed the front-end JavaScript ecosystem and become a go-to choice for web development projects. Businesses have been increasingly turning to ReactJS development services to improve their online presence and customer experience.

As the technology continues to become more popular and in demand, the cost of hiring a React developer is also increasing. The average rate for hiring a React developer can vary greatly depending on experience, location, and project size, so it is important for businesses to research the cost of hiring a React developer before committing to a contract.
Why are ReactJS developers in high demand?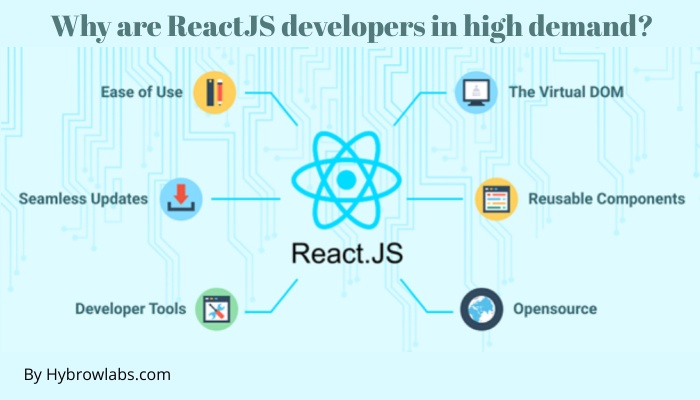 In 2021, React.js has become the most popular and widely used web framework among developers worldwide, with an impressive 40.41% market share. It currently powers more than 7.4 million live sites. Such renowned sites as Netflix, Dropbox, Facebook, BBC, and Yahoo Mail have all been built using React for its simplicity and ease of use. Additionally, the library is highly flexible and integrates well with other technologies.

All these benefits lead to a huge demand in the job market for React professionals. The prevalence of competition in the tech sector has led to an increase in salary for React developers globally. In this guide, we will provide an analysis of the Key Factors Affecting React Developer Salary 
In order to determine an equitable salary for a React developer, one must take into account various factors such as global demand, skill level, type of project, and market statistics. Let's go through each one of these to get a better understanding of what we are really seeking in an eligible freelance developer:
To ensure you are providing a fair wage with regard to the current market conditions and the scope of the project at hand, consider these factors before making any hiring decisions.
1. The level of Experience 
The level of experience is an important factor to consider when it comes to this topic.
Experience is often correlated with an increased salary expectation; however, certain factors such as a remarkable interview performance, a wide array of skills, and a portfolio of past work can lead to higher salary opportunities regardless of experience.
When seeking to hire a React developer, it is important to be aware of seniority levels and the corresponding salaries. The seniority level of a React developer is often reflective of their experience and skillset, so it is essential for React development companies to be clear on the desired level of experience when hiring for an upcoming project.
For development projects with fewer complexities, an entry-level or mid-level developer may suffice. Projects requiring more intricate knowledge and expertise, however, should be entrusted to a senior developer.
The general specification is as such:
a. Junior React developer: Between 1 to 3 years of experience
For those seeking to hire a React developer, there is an affordable option available. However, this comes at the cost of a limited skill set, as the experience level of these developers is not as high as those with more experience. This makes it important to consider if the React developer's skill set is sufficient for the tasks required. It is also wise to research and compare rates between different React developers to ensure competitive prices.

b. Mid-level React developer: Between 3 to 6 years of experience
A freelance React developer with a higher skill set will inevitably come at a higher fee than a junior react developer.  As such, it is important for employers to understand what they are getting for the rate they are paying, and to ensure that they are getting a quality product for their money.
c. Senior React developer: More than 6 years of experience
An experienced programmer is going to come with a higher fee due to the complexity and advanced skill set required. React developers are the go-to experts when it comes to creating custom web applications and mobile applications, so it is important to have a strong understanding of the language in order to get the job done right.
2. Skill Set
Projects vary in terms of the required skill sets. Generally, ReactJS Developers should have a working knowledge of system architecture, design principles, Redux, and UX Design. According to industry standards, the salary for ReactJS Developers is largely determined by their skill level.
React professionals are expected to possess a set of core skills in order to be proficient in the technology.
Junior developer:
Candidates for this position should possess a baseline knowledge of React, with proficiency in CSS, HTML, and Javascript. Additionally, coding and debugging skills, as well as basic experience with UX design are desirable. Knowledge of Git source control is preferred.
Mid-level developer: 
At this level, you need to have extensive experience in a variety of development-related tasks, including class and functional components, React testing libraries, API data fetching, DevOps, UI development and design, coding, and automated deployment.

Senior developer: 
Candidates for the position must demonstrate experience in developing complete applications, integrating third-party solutions, debugging, and working with React libraries. In addition, candidates should have the ability to lead and train development teams and possess familiarity with technologies such as Google Cloud Platform and Amazon Web Services. Furthermore, candidates should be aware of the latest industry trends.

3. Company Size
When hiring developers or outsourcing React development services, the size of the company typically has an effect on the level of experience that can be expected.
Companies such as Google and Netflix, with larger employee numbers, often provide lower salaries than those provided to smaller or more recent businesses. Though not a definitive rule, startups may offer more competitive wages to developers than multinational corporations.
4. Project Size
The size and scope of a project are key factors in determining the expected salary bracket for React developers. Each project carries different requirements, and the cost of development can vary depending on the complexity, timeline, and resources needed.
As React is suitable for a wide range of web and application development projects, pay rates for developers may be flexible.
5. Project Complexity
For a complex project, the associated salary for developers will be higher than those for more straightforward ones.

Aspects such as payment gateways, map integration, and media streaming require additional time and money to develop, affecting the overall budget. Meanwhile, single-page applications such as Gmail and Maps are considered less laborious and thus cost less.
Enterprise applications require intensive server performance and extensive user data, necessitating regular maintenance. Moreover, the development of social networking applications is multifaceted and in real-time, adding layers of complexity.

6. Recruitment Model
The salary of a React developer is dependent on how they are contracted.
In the fixed-price model, a predetermined budget and timeline are established to determine the final salary, while the dedicated model allows for a longer-term engagement without fixed requirements or deadlines. This means the length of the project can vary, influencing the ultimate remuneration.


The cost of hiring a React developer depends on their experience level, but one thing is certain: the investment will be worth it.
Estimating the Cost of React JS Developers 
When looking to hire a React JS developer, there are numerous factors that can affect the cost of the project. These include the experience of the developer, the size and scope of the project, as well as the location and availability of the React developer. By understanding these factors, one can make a more informed decision when considering hiring a React JS developer:
Development hours – How many hours it will take for development to accomplish? In India, the average hourly rate for such hire is 7.51 USD / hour

Project scope – If the scope of the project is comprehensive and far-reaching.

Developer experience – What qualifications and experience does the developer possess?

Developer skillset – What key skills and abilities do he possess?

Recruitment model – As businesses across the nation consider their hiring models, have they made a decision?

Outsourcing country – When selecting an outsourcing destination, businesses should consider the varying rates that are associated with different locations

Related complications – Surprising developments can be anticipated in this region

Hybrowlabs offers experienced React JS developers from around the world at competitive prices.
To aid in informed decision-making, this article provides an overview of the average hourly rate and salary for React JS developers across the globe.
React JS Developer Hourly Rate(Worldwide)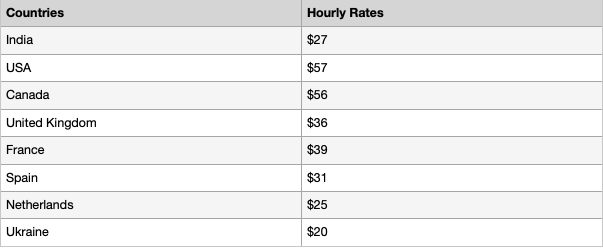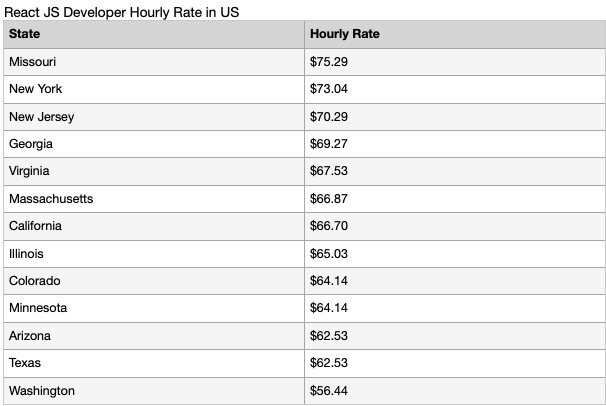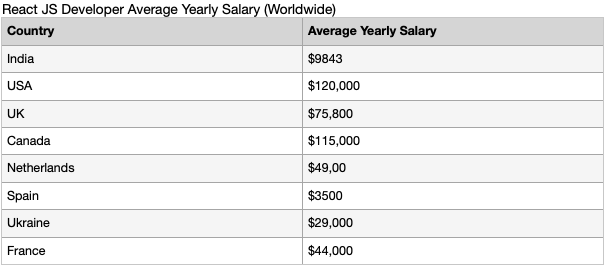 Adopting the right technology is essential for success, but having a qualified professional to execute plans is just as important.

Boasting a wealth of innovative technology and experienced, highly-skilled ReactJS developers, Hybrowlabs provides the best Freelance ReactJS developers at a cost-effective rate. Our team of resilient developers is an expert in website development, with a focus on React. With competitive rates and a commitment to customer service, you can rest assured that you are getting the best value for your money when you hire a React developer from our team.