If you are planning to establish or expand your enterprise, it is essential to expend a significant investment of capital in order to gain an adequate return on that investment. For those interested in launching their business online, there needs to be a corresponding commitment made with regard to investing in the necessary digital offerings; one which must include the hiring of developers. The decision as to whether employment should come from within local jurisdictions or overseas locations is an important consideration for any entrepreneur looking forward to success - so don't forget about these opportunities!

After over a decade of collecting solid evidence on the merits and high return on investment of offshore developers, we would like to share the most compelling reasons why offshore developers are the best choice for you. Before all of that let us give you a brief background...

We know by now what React JS exactly does. For our new visitors - ReactJS is a JavaScript-based framework created by Facebook which empowers developers to construct native apps in code. Furthermore, this tool offers modular architecture; offering stability as well as affording an economic approach for optimal performance. 

Now, with the advent of digitization, developing efficient and robust websites can be an effective way to retain customers. Hiring top offshore React developers may be the most cost-effective solution; after all, hiring experienced professionals from abroad is anything but cheap!

In this article, we will unlock the secrets of seeking out offshore programmers so you can complete your project successfully at no added cost with the best quality.
OFFSHORING for Businesses

Offshoring refers to the process of relocating business operations to another country. You can offshore all aspects of your operation or select only certain segments for relocation; two distinct types exist:
Offshoring as a subsidiary

Hiring a service provider abroad
Offshoring as a subsidiary offers fantastic opportunities for expansion and innovation. Establishing an independent entity in another country allows you to construct an auxiliary arm of your enterprise from scratch; whereas contracting with an offshore service provider presents the perfect opportunity to augment your workforce by leveraging expertise from elsewhere on the globe.
To ensure optimal success, it is essential to understand that the concepts of outsourcing and offshoring are not identical. By expanding operations, entrepreneurs gain control over their development team, giving them impressive visibility into how things are progressing and the effectiveness of those individuals. The advantages of offshoring can be seen in its widespread appeal among entrepreneurial ventures; it offers unparalleled insight into operationally-relevant matters while simultaneously helping companies achieve organizational growth through an efficient implementation strategy!
Aside from that, businesses resort to offshoring for several different advantages. Here are the benefits of offshoring: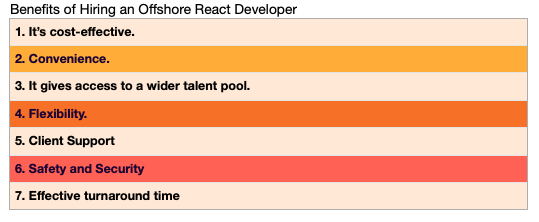 1. It's cost-effective
Given the paucity of developers and designers in your vicinity, it is unlikely that there will be any fierce competition for top salaries among local firms. Less competition can often result in more exorbitant prices and longer timelines to fill vacancies - but teams working across international borders are contending with corporations from all corners of the globe. Offshore labor agencies can utilize virtual technology-based communications such as Zoom calls when they're needed; this way they offer superior quality services at a relatively affordable cost. 
Explaining the advantages of hiring an offshore ReactJs developer, it is evident that their rate comes at a more attractive price point compared to local counterparts. One can anticipate savings of up to $80,011 USD per annum for their US-based hire whereas from India such compensation levels are expectedly lesser - oftentimes hovering around $ 23000 USD annually. This disparity in cost is attributable neither due to under-compensation on part of offshore firms nor consequences arising from the global competition.

Your offshore developer takes care of all technical matters, ensuring convenience and efficiency while respecting your budget constraints.
2. Convenience

Offshore software development companies provide a convenient solution for recruitment. These enterprises typically possess experts that are prepped and ready to go, ensuring that your chosen developer has successfully undergone thorough vetting and training. This is an undeniable advantage!
3. It gives access to a wider talent pool

Offshore development companies can count on employing the most talented designers and programmers because they are not restricted by local geospatial limitations. They have all the resources to recruit from across the globe; collaborating with colleagues while maintaining effective communication is a breeze via Skype, Zoom, or Slack. At any given moment you can feel like you're working alongside experts just around an adjacent corner!
4. Flexibility

Clearly, there will be a temporal disparity between your business and an offshore firm. Yet, this is an opportune moment for enterprise-oriented flexibility. For example, if you are in customer service operations; you could entrust the operation of your team from another time zone during off hours at their local office space.
5. Client Support

Offshore developers are keenly attuned to the continual need for maintenance and enhancements. Having seen this phenomenon on a grand scale with their client's projects, they have developed a solution- they retain reliable post-launch services! This means that rather than having to haggle over who must be contacted when problems arise, users can simply continue working with those who were responsible for handling the initial implementation of their project - confident in knowing that all future repairs and adjustments will be handled by skilled professionals.


6. Safety and Security

Reliable offshore developers from esteemed firms are dedicated to safeguarding your information within a highly secure environment utilizing the most advanced encryption and data protection technologies. As an added layer of security, they should provide you contracts that incorporate nondisclosure clauses and noncompete agreements; if not, be wary - nobody is sharing your intellectual property as their primary objective is to safeguard you as a client by safeguarding all of the information which you entrusted them with.
7. Effective turnaround time

Offshores provide a reliable turnaround time that is often facilitated, rather than hampered by operating across multiple time zones. While you're peacefully slumbering in your bed, your team carries out their assigned workload; when you awaken and expand into the external world - they will too! Leveraging an efficient distributed leadership model as well as being overseen by anyone skilled in project management at all times allows these professionals to effectively manage tasks expeditiously yet impartially so that even the most minute details are fully taken care of with precision.

Main ReactJS Development Outsourcing Solutions

To hire a ReactJS developer offshore, it is vital to comprehend what such specialists can offer. Typically, you will encounter the same array of services from any React JS outsourcing company or firm - including: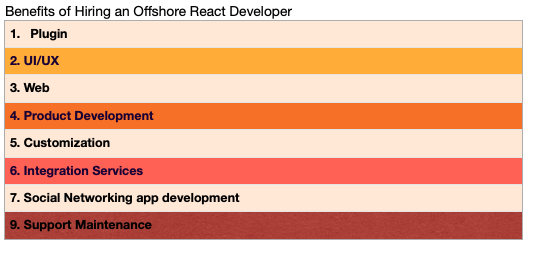 (a) Plugin: A ReactJS software development specialist can add some new features and software components to your already existing product. 
(b) UI/UX: React is a powerful tool for undertaking UI/UX development tasks and can yield extreme results in terms of user experience metrics.
(c) Web: Advancement of the front-end development process often involves the utilization of React JS. 
(d) Product development: You can design and develop your product from scratch using React.
(e) Customization: You can customize your product by utilizing various plugins and add-ons developed with the aid of an offshore React development professional.
(f) Integration services: An offshore enterprise will be invaluable in uniting your venture with the influx of commerce.
(g) Social networking app development: The primary area of expertise for this framework is app development.
(h) Support & maintenance: Offshore development companies typically provide their clients with assistance to resolve any inquiries about the development process.
Some suggestions for Offshore Success

To safeguard against the potential pitfalls associated with offshoring, it is essential to put into place a plan of action. This can entail taking advantage of proven best practices and pursuing judicious actions that will help overcome any misconceptions related to this industry-related endeavour. By effectively managing such concerns, entrepreneurs can maximize their chances for success when hiring offshore developers:
1. The Cheapshoring trap

It is essential to ensure that you are hiring the best React developers at a reasonable cost. If you choose an inexpensive alternative, chances are that it may not be as competent as one of its more expensive counterparts.
Producers of top-caliber software have an attainable quote, based on where they reside. Thus, even if you offshore to achieve cost savings, do not lower the bar too low. You may be compromising product quality and timely delivery.
2. Create overlapping hours 

Establishing overlap hours is a straightforward method of ensuring that all your teams remain aligned and cohesive. This should be done judiciously, taking into consideration how each team works – daily meetings must be accommodated while synchronizing activities to gauge progress awareness.
3.  Picking the right locations

For those seeking a booming IT scene, there are numerous territories across the globe that offer opportunities for enterprises. The Philippines in particular boasts one of the most dynamic industries on earth; it is home to vibrant startups from various parts of South and Southeast Asia as well as Eastern Europe. Entrepreneurs must consider these regions when exploring overseas locations for their operations.
4. Finding trusted development partners

Once you have decided on the ideal country for offshoring, it is essential to locate an established and reputable offshore development partner company. This is the indefatigable approach to ensure success in this endeavor.
At Hybrowlabs, we strive to provide our clients with the optimal circumstances for success. The continuously expanding roster of our customers attests that we are among the most dependable software development firms in India. Learn more about Hybrowlabs Services here.