If any person is running a food manufacturing business, then they might know that having a suitable ERP (Enterprise Resource Planning) system is essential for quick and reliable progress in work. An effective ERP system can help you manage your workings, resources, and cash-flow more efficiently, allowing you to streamline processes and maximize profits. With so many ERP systems on the market, it can be challenging to decide which one is best for your business. In this blog post, we will discuss the factors to consider when choosing an ERP vendor for your food manufacturing business.
How Do I Choose An ERP Vendor?
Choosing the right ERP vendor for your food manufacturing business can be a very critical decision. The right choice will ensure that your workings run smoothly and efficiently, while the wrong choice can lead to costly problems and inefficiencies. Here are some tips on how to choose an ERP vendor for your food manufacturing business:
Before making any decisions, it is essential to do research on different ERP vendors. Make sure to look into their experience, customer support, capabilities, software features, pricing, and more. Also make sure to read reviews from other businesses that have used their products. This can help you gain a better understanding of what to expect from a particular vendor.
Once you have done your research, it is important to compare different vendors against each other. Make sure to compare features, prices, customer service and more. By comparing different vendors, you can get a good idea of which one will be the best fit for your business.
3. Ask Questions:
Make sure to ask questions about any specific features you may need or want in an ERP system. You should also make sure to ask about customization options, implementation timelines, and customer support. By doing this, you can make sure that you understand everything that a particular vendor has to offer before making a decision.
4. Consult Experts:
It can also be beneficial to consult with experts in the field who have experience working with different vendors. These experts can provide valuable insights into what type of system would work best for your specific needs and goals.
5. Test Out the Software:
Finally, once you have chosen a few potential vendors, make sure to test out the software they offer before making a final decision. Doing this will allow you to get a feel for the system and make sure that it meets all of your requirements before committing to anything.
By following these tips, you should be able to easily select an ERP vendor for your food manufacturing business that is the perfect fit for your needs. Be sure to do your research, compare different options, ask questions, consult with experts, and test out the software before making a final decision. Good luck!
What Is The Most Important Criteria In Selecting ERP Vendors?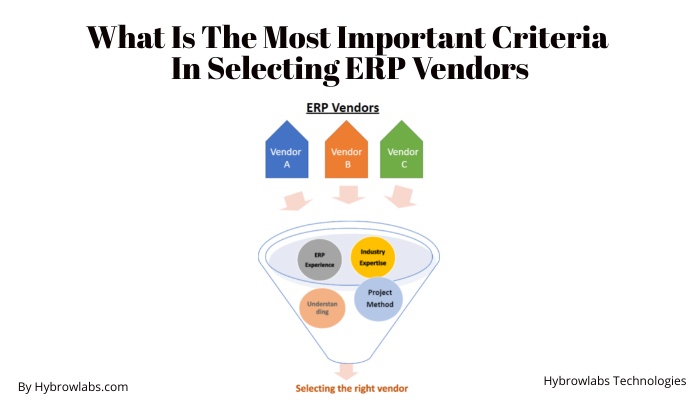 When it comes to choosing an Enterprise Resource Planning (ERP) vendor, there are many important criteria that must be taken into consideration. It is essential for companies to select the right ERP vendor who can offer the best solution for their unique needs. Here are some of the most important criteria for selecting an ERP vendor:
When it comes to ERP vendors, it is essential to ensure that the technology they are offering is up-to-date and capable of meeting the needs of your business. The vendor should be able to provide a reliable and secure platform that will help to streamline your processes and make operations more efficient.
Cost is another key factor when it comes to choosing an ERP vendor. It is important to understand the cost structure and budget for your project before selecting an ERP system. In addition, you should also consider additional costs such as implementation and training fees.
ERP systems should be flexible enough to accommodate the changing needs of your business. Your vendor should be able to provide a system that can easily scale and adapt to the changing demands of your business.
The expertise of the vendor's team should also be considered when choosing an ERP system. The vendor should have the necessary skills and experience in implementing and supporting an ERP system. They should also be knowledgeable about industry trends and best practices when it comes to ERP solutions.
Finally, it is essential to consider the reputation of the vendor when selecting an ERP system. It is essential to do some research and find out what other customers have to say about the vendor's services. This will give you an idea of what you can expect from the vendor and their level of customer service.
In conclusion, when selecting an ERP vendor, it is essential to take all these factors into account in order to make the right decision for your business. It is important to choose a vendor that has the technology, cost structure, flexibility, expertise, and reputation necessary for a successful implementation of your ERP system.
What Are The Main 3 Factors Would You Set To Choose An ERP System?
1. Compatibility with Your Business Needs
When selecting an ERP system, you need to consider the specific needs of your business. Make sure the ERP vendor you choose is able to provide the features and services required to help your business run smoothly and efficiently. Consider aspects like integrations with other software or support for additional languages.
2. Cost is a crucial factor in selecting an ERP vendor. 
Different vendors may offer different packages that can be tailored to fit within your budget. You should also be aware of any extra costs, such as consulting fees and training sessions, that may not be included in the price.
3. Ensuring the vendor provides quality customer service and technical support is essential when selecting an ERP vendor. 
Check to see if they offer phone support, online chat, or a customer portal for fast answers to common questions. It's also important to ask about the availability of on-site support and training programs for your staff. The ease of implementation and scalability of the system should also be taken into account. The vendor should have processes in place for quickly deploying their solution to ensure minimal disruption during the transition. Ask how long it will take before the new system is up and running, what type of hardware and infrastructure are needed, and how the data migration process works. 
Additionally, look into their upgrade plans; will their product be able to grow and adapt with changes in your business? Is there a way to scale up quickly? These are all key considerations when evaluating potential ERP vendors. Ultimately, finding the right solution comes down to taking the time to understand your current business environment, researching different solutions available, and partnering with a vendor who can meet your long-term needs.
What Are The 5 Key Features Of ERP?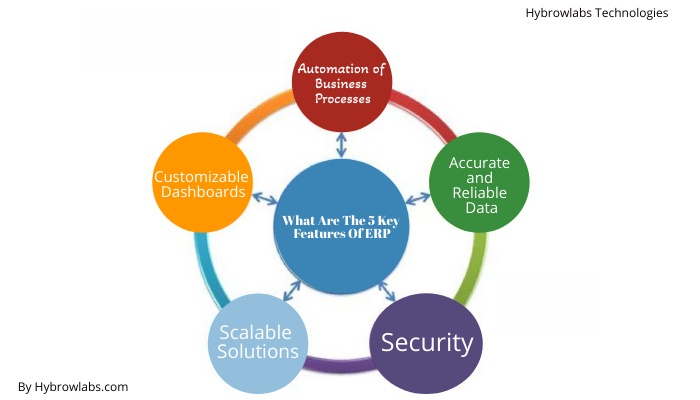 1. Automation of Business Processes
ERP systems provide automated processes to streamline a variety of activities including purchasing, inventory management, production scheduling, financial accounting, and customer service. Automating these processes can help businesses reduce errors, save time, and increase efficiency.
2. Customizable Dashboards
ERP systems provide customizable dashboards that allow users to quickly access data for their businesses. This feature allows users to get an overview of the business and identify areas of improvement. The dashboards also provide insights that can be used to make decisions and create strategies.
3. Accurate and Reliable Data
ERP systems provide reliable and accurate data that is essential for making informed decisions. This data can be used to track KPIs, analyze trends, identify opportunities, and ensure compliance with industry regulations. ERP systems also provide real-time updates on data so that users can stay up to date with the latest information.
4. Scalable Solutions
ERP systems are designed to be scalable so that businesses can add more features as they grow. This helps businesses keep up with changing needs without having to purchase an entirely new system or add on modules. As businesses scale, they can upgrade their ERP systems to accommodate more complex processes and higher levels of data.
5. Security
ERP systems are designed with security in mind and include authentication measures such as role-based access control and encryption. This ensures that only authorized users can access sensitive data and that the information is protected from external threats.
These five key features make ERP systems essential for any business that is looking to streamline operations and improve decision-making capabilities. The right ERP system can help businesses improve efficiency, reduce costs, and gain competitive advantage in their industry.
Conclusion
When it comes to selecting the right ERP vendor for your food manufacturing business, there is no one-size-fits-all answer. Every business is different and requires a system that meets their specific needs. It is important to evaluate the features and capabilities of each ERP vendor to ensure they can deliver on what your business requires. The most important criteria when selecting an ERP vendor are scalability, ease of use, and cost. Furthermore, you should make sure that the vendor offers training and support, as well as comprehensive features such as production planning, order management, inventory tracking, and more. By taking the time to research your options, you can make sure you select the right ERP system for your food manufacturing business.
FAQ's
1. What should I consider when choosing an ERP vendor for my food manufacturing business?
Answer: When choosing an ERP vendor for your food manufacturing business, you should consider factors such as scalability, cost, customer service, flexibility, and integration capabilities. Additionally, you should assess the vendor's support services and ensure they offer training and ongoing technical assistance.
2. How can I make sure the ERP system I choose is suitable for my food manufacturing business?
Answer: Before selecting an ERP system for your food manufacturing business, it's essential to evaluate the features that are most beneficial for you. These might include inventory control, order management, and data analysis tools. Additionally, make sure the ERP system has a user-friendly interface and is customizable to suit your specific needs.
3. What are the main three factors I should set when selecting an ERP system?
Answer: When selecting an ERP system, the three main factors you should consider are scalability, cost, and flexibility. It's important to make sure the system is scalable so it can grow with your business and be adapted to meet changing requirements. Additionally, ensure the cost is within your budget and the system is flexible enough to accommodate any customizations or integrations you need.
4. What are the five critical features of an ERP system?
Answer: The five key features of an ERP system include order management, inventory control, data analysis tools, a user-friendly interface, and customization options. Order management allows you to easily track orders from start to finish while inventory control enables you to view current stock levels and monitor sales trends. Data analysis tools allow you to gain insights into your operations and customer behavior, while a user-friendly interface makes the system easy to use. Finally, customization options let you customize the design to fit the needs of your specific business.
5. What kind of support and training does an ERP vendor typically provide?
Answer: Most ERP vendors offer training and support services designed to ensure successful implementation of their systems. These may include online tutorials, webinars, user guides, or one-on-one sessions. Additionally, some vendors also provide 24/7 customer service in case of any technical issues or other concerns.