Introduction
Production planning, inventory management, quality control, reporting, and analytics are just a few parts of the manufacturing process that are managed and optimized by manufacturing management software.
Small enterprises must streamline operations to boost production, save expenses, and increase manufacturing efficiency. The correct manufacturing management software may help small firms manage their resources more effectively, monitor their development, and make data-driven decisions to keep them competitive. The software can also aid small firms in being more adaptable, scalable, and client demand-responsive.
Types of manufacturing management software
1. Enterprise resource planning (ERP) systems
Manufacturing, supply chain management, accounting, and Just a few of the many corporate processes are human resources integrated and automated by these all-encompassing software systems. Small businesses can manage inventories, monitor production progress, and receive real-time data on the efficiency of their manufacturing processes thanks to ERP systems, which give them a unified perspective of their operations. ERP systems are an all-in-one solution for small firms seeking to streamline their operations since they often contain modules for financial administration, customer relationship management, and project management.
2. Manufacturing execution systems (MES)
These are software programs created to manage and control the performance of manufacturing processes. Small firms can optimize production and spot bottlenecks in real time because of the precise information MES systems give them about work orders, production schedules, and machine performance. Additionally, by offering capabilities for tracking, monitoring, and reporting on product quality, MES systems can assist small enterprises in strengthening their quality control procedures. MES solutions frequently connect with other systems like ERP, CAD, and CAM to give manufacturers total control over the manufacturing process.
3. Computer-aided design (CAD) 
Small firms can generate, revise, and manage their products' intricate designs and technical drawings thanks to these software programs. Small firms may produce precise and thorough 3D models of their products using CAD tools, which we can use for simulation, testing, and manufacturing. Small businesses can improve product design, save prototype costs, and accelerate the creation of new goods using CAD tools. You can connect CAd systems with others like CAM, ERP, and MES for a smooth and effective workflow.
4. Computer-aided manufacturing (CAM) systems
These software programs manage and control the manufacturing process, including machine tools and other production gear. Small enterprises can use CAM systems to translate their CAD designs into machine-readable code, which you can subsequently use to manage the functioning of their production equipment. CAM systems also assist small enterprises in reducing production times, increasing overall manufacturing efficiency, and optimizing cutting and machining tactics. You can also connect CAM systems with other systems like CAD, ERP, and MES for total control over the production process.
.
Features to consider when choosing manufacturing management software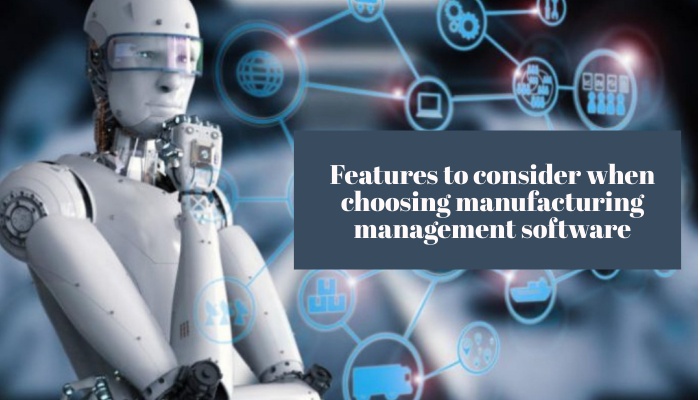 1. Automation capabilities
Automation is a crucial component of production management software since it may assist small organizations in boosting output, cutting costs, and increasing efficiency. Look for software with automation capabilities for scheduling, inventory management, and quality control tasks. It can assist in reducing labor expenses, eliminating manual errors, and accelerating output. Software with automation features can also help small firms become more scalable and react swiftly to customer demand.
2. Inventory management
When selecting factory management software, inventory management is a crucial element to consider. With this tool, you may monitor and manage the raw material, work-in-progress, and finished goods inventories. You ought to be able to specify reorder points and create purchase orders as necessary. Other crucial elements of inventory control include:
You may view the current inventory levels and follow changes in real-time, thanks to real-time tracking.

RFID connectivity and barcode scanning make tracing inventory movements and locations easy and accurate.

You may track particular items and batches using the lot and serial number tracking, which can be useful for compliance and quality control needs.

The ability to manage inventory across various sites, such as warehouses or manufacturing plants, is known as multi-location inventory management.

Integrating accounting and ERP systems makes inventory management and financial reporting possible.

Inventory forecasting: Using previous sales and production data, you can predict the amount of inventory you'll require in the future.
3. Quality control
The software's ability to support quality control procedures is among the most crucial elements when selecting manufacturing management software. When selecting production management software for quality control, other factors to take into account are as follows:
Integration of the quality management system (QMS)

Tracking of nonconformances
4. Reporting and analytics
The software's reporting and analytics features should be considered when selecting factory management software. It produces historical and real-time reports on cost management, inventory levels, and production performance. The program should also provide in-depth information on production processes, including work-in-progress, production yield, and machine downtime. Additionally, seek software with integrated analytics capabilities that you can use to make data-driven decisions to enhance the productivity and profitability of your manufacturing processes. These tools make it simple to detect trends and patterns in your data.
5. Integration with other systems
It's crucial to consider the software's compatibility with other systems while selecting factory management software. It entails connecting with customer relationship management (CRM) systems, enterprise resource planning (ERP) systems, and other software your company utilizes to run its operations.
To avoid duplication of work and to ensure that data is correct and current across all systems, software that can easily interface with other systems is essential. It will result in more effective business operations and assist you in reaching more informed judgments. The software's compatibility with various platforms, such as mobile, online, or cloud-based, is also crucial to take into account because it will enable you to access the system from any device and allow your team. You can allow you and your team to oversee your manufacturing processes from any location. It's also crucial to think about the software's API, which will make it simple to link it to other programs or services, including IoT gadgets and sensors, for better data gathering and analysis.
Best manufacturing management software for small businesses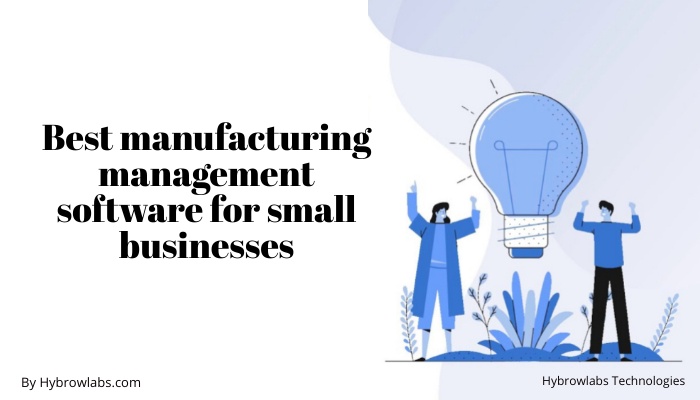 Open-source enterprise resource planning (ERP) software ERPNext is cloud-based and intended to automate and streamline several corporate operations. This factory management software covers accounting, inventory management, sales and purchasing, human resources, and project management. In small to medium-sized firms, it is frequently employed in various sectors, including manufacturing, retail, services, and healthcare.
ERPNext's user-friendly interface, which makes it simple for non-technical people to access and manage information, is one of its main advantages. Additionally, it is adaptable, enabling firms to customize the program to their particular needs and specifications. It aids businesses in enhancing productivity, decision-making, and efficiency. Additionally, ERPNext interacts with other programs and resources, simplifying the handling of your data in one location. By doing this, firms can prevent data duplication, reduce manual errors, and guarantee data accuracy. It is perfect for companies with a global presence because it also supports many languages and currencies
Rated well in the FrontRunners report for its features and value, E2 Shop System is a well-known manufacturing software solution for small firms. It provides comprehensive inventory management, production monitoring, and the option to design unique reports. E2 is a fantastic all-in-one solution because it interfaces with other products, such as accounting software.
Another highly ranked product is Fishbowl Manufacturing, which received high marks for its integration with QuickBooks and inventory management features. Additionally, it provides thorough production tracking and is adaptable to your company's unique requirements.
With its cloud-based platform enabling simple access to manufacturing data from anywhere, Infor CloudSuite Industrial (Syteline) is a solid alternative for small firms. It also has built-in scheduling capabilities, inventory management, and production tracking.
Odoo Manufacturing is a comprehensive open-source software program that provides scheduling, production tracking, and inventory management features. Small businesses looking for an all-in-one solution also provide a wide selection of modules you can add to the platform, including accounting, CRM, and e-commerce.
Conclusion
It's crucial to consider several vital aspects when selecting factory management software, including reporting and analytics capabilities, system integration, and platform compatibility. It can take time to pick the best manufacturing software for your small business. Your decision will be well-informed by comparing the best options available and considering the most crucial aspects for your company.
Small firms are advised to look for simple, user-friendly, and configurable software to streamline their manufacturing operations. It should also have a fair price structure that fits the budget and size of the firm. Here is where Hybrowlabs ERP services comes in light which fits perfectly & has all features and customizations that one looks for.
Additionally, it's critical to seek software that provides top-notch customer service and various features that it can customize to match the organization's unique demands.
FAQ's
1. What is manufacturing management software, and how can small firms benefit from it?
Businesses may control and improve their production operations using factory management software. It can assist small firms in streamlining their processes, increasing production and efficiency while lowering expenses and boosting profitability.
2. What essential characteristics should manufacture management software for small firms have?
The ability to report and analyze data, integrate with other systems, and work across several platforms are key qualities for small firms to keep an eye out for in manufacturing management software. It's also crucial to pick simple, user-friendly, and flexible software with a fair pricing structure that fits the business's size and budget.
3. What factors should small firms consider when selecting the best manufacturing management software?
By determining their unique requirements and objectives, investigating several software solutions, and weighing the features and capabilities of each option, small firms may make sure that they select the best manufacturing management software. The seller's degree of customer assistance and the software's compatibility with other platforms and systems should also be considered.
4. Is it possible to modify production management software to fit the particular requirements of small businesses?
Yes, most production management software can be tailored to fit the particular requirements of small enterprises. Many software vendors offer individualized options and solutions that we can customize to the firm's unique needs. In addition, some software vendors provide APIs that let companies link their software to other applications or services, including IoT devices and sensors, to improve data collecting and analysis.