You're sitting on your couch watching your favourite flick but what's a movie night without popcorn and soda?
You pull out your phone, place an order online and have them both delivered to your doorstep in under 10 minutes.
Not faster than the speed of light but it's surely impressive.
That's the power of an intelligent customer experience in digital commerce.

It's easier now more than ever to get your hands on things you simply think about. Thanks to modern technology, e-commerce has revolutionized the way customers shop. Online stores have made it more convenient for customers to find and purchase the items they need, and the comfort of shopping from home has been a major draw for shoppers. Additionally, with features such as customer reviews, personalized product recommendations, and speedy delivery, customers can now get a tailored shopping experience without ever having to step out of their own homes. 
Players like Apple, Zara, Spotify, Amazon, Zepto and Zomato thrive on this strategy and we already know how well they have covered the market with their reliable customer experience initiatives.
Why does a customer experience in e-commerce matter?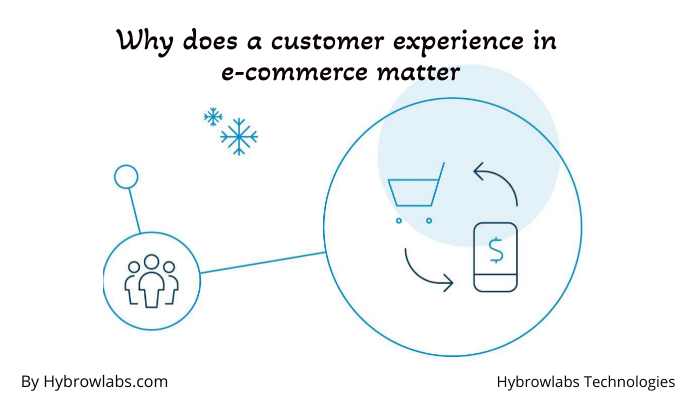 The customer experience in e-commerce is becoming increasingly important for businesses that are looking to stay competitive in the digital economy. Customers are more demanding than ever before, and businesses need to understand that the customer experience is a major factor when it comes to their success.
A positive customer experience can result in higher customer satisfaction and loyalty, leading to increased sales and brand recognition. On the other hand, a bad experience can lead to lost customers and decreased customer confidence.
It is essential for businesses to recognize the importance of providing a positive customer experience in e-commerce if they want to stay ahead of the competition.

How can it be personalized?
By using e-commerce data responsibly, businesses can tailor their offerings to their customers, creating a more personalized and engaging experience. This practice is designed to create the feeling that the customer is being guided and impressed with experiences that are tailored to their individual needs, creating a magical feeling for them. As such, businesses should consider e-commerce personalization as an essential part of their customer experience. 
As e-commerce businesses continue to grow, personalization has become an increasingly popular marketing tactic. Let's explore the ways in which user experiences for e-commerce businesses can be personalized:
1: Personalized product recommendations

By understanding customers' preferences, e-commerce companies can provide them with more personalized product recommendations and promotional offers, ensuring that the customer experience is tailored to the individual consumer. 
2: Automated customer segmentation
By collecting and analyzing customer data, businesses can identify key segments and target their marketing efforts more effectively. This allows them to create personalized experiences tailored to each segment, increasing engagement and driving sales. 
3: Customizable shopping cart and checkout process
By allowing customers to tailor their shopping cart and checkout process to their individual preferences, businesses can ensure that they are meeting the needs of their customers and providing the best possible experience. This can help increase customer satisfaction and loyalty, leading to increased sales.
4: Automated order fulfilment and shipping process
Automation can speed up the order fulfilment process and help businesses to better manage inventory and reduce time spent on manual data entry. It can also help to reduce customer wait times, as orders are processed more quickly and accurately.
5: Real-time customer service chatbots
With the use of artificial intelligence (AI) technology, these chatbots are able to understand customer queries and provide accurate and relevant answers. This leads to an improved customer experience as customers can get their questions answered quickly around the clock without having to wait for a human representative. 
6: Data-driven customer segmentation analysis
By analyzing customer data, companies can better understand the needs and preferences of their customers and tailor their marketing campaigns to reach specific segments. Segmentation analysis can help companies identify potential new markets and better target their product offerings. 
7: Proactive customer support channels
Not only do customer support channels enable businesses to quickly respond to customer queries and complaints, but they can also help build trust and loyalty with customers. Having a proactive approach to customer service not only helps to reduce the time customers spend waiting for a response but also encourages customers to reach out for help more quickly when they need it.

A successful customer experience in e-commerce requires more than just good products and services – it requires businesses to be proactive in their customer support.
8: Personalized marketing campaigns 


Personalized marketing allows companies to save time and money on campaigns that may not be successful in reaching a broad audience. By targeting customers with messages tailored to their individual needs, companies are able to provide an enhanced experience that drives customer loyalty.
9: Social media integration for product reviews and feedback
Companies are leveraging the power of social media to encourage customers to share their opinions and experiences, making sure that they are heard and helping them build relationships with brands. With product reviews and feedback now accessible at the click of a button, customers are able to get the information they need to make informed decisions.
How big is the payoff?

Research has shown that providing customers with a positive experience leads to increased customer loyalty and satisfaction, as well as higher conversion rates, higher average order values, and more referrals. From higher conversion rates and bigger order values to increased customer loyalty and satisfaction, as well as more referrals, a positive customer experience is a key to success. Companies that invest in providing their customers with a great experience are likely to reap the benefits of higher profits and increased brand recognition.

To stay ahead of the curve, companies should understand their customers and provide them with an engaging, positive experience which will ultimately give them a stronger competitive edge.
Analysing customer experience
In an increasingly digital world, understanding customer experience in e-commerce is critical for businesses to remain competitive. Analysing customer experience can provide invaluable insights into how customers interact with a company's products and services, helping to identify areas for improvement. Companies must make sure that their customer experience is as up-to-date and relevant as possible, to ensure that customers remain engaged and satisfied. 
Businesses that are operating an e-commerce platform are increasingly turning to customer experience analysis to ensure that they are delivering the best possible service to their customers. This involves analysing customer behaviour and preferences in relation to their services, such as the speed and ease of use of the website, the quality of customer service and product delivery times.
By understanding the customer experience and using the data collected to refine their services, businesses can make sure that they are delivering a seamless online shopping experience for their customers.
Analysing customer experience can be achieved through a variety of methods.
1. Analyze customer feedback
Through reviews of customer feedback, businesses can gain valuable insights into what customers are looking for in their online shopping experiences. This information can be used to improve the overall customer experience and increase customer retention rates.
2. Collect and analyze customer data
By collecting and analyzing customer data, businesses can ensure that they are providing the highest level of service to their customers and creating an overall positive experience.
3. Identify customer needs and preferences
This includes understanding what customers are looking for and providing the information, products, and services they require. In addition, companies must ensure that the customer journey, from discovery to purchase, is as streamlined and comfortable as possible. 
4. Optimize the user interface and checkout process
The design of the website should be intuitive and easy to navigate, while the checkout process should be streamlined and efficient. By taking the time to optimize these elements, businesses can ensure that customers have a positive experience when shopping online.
5. Use personalized recommendations and targeted marketing campaigns


By targeting marketing campaigns to specific customer segments, businesses can better tailor their marketing efforts to meet the needs of their customers. Utilizing both personalized recommendations and targeted marketing campaigns can help businesses build strong customer relationships in the e-commerce space.
 6. Leverage automation technologies to streamline operations


By leveraging automation technologies, businesses can better manage customer data, provide faster and more accurate order processing and delivery, and enhance the overall shopping experience.  
7. Track customer journeys to identify pain points
Tracking customer journeys can provide valuable insight into customers' needs and desires, and can help identify potential pain points in their overall experience.
8. Monitor customer satisfaction levels and respond promptly to address any issues


This can be done through surveys, feedback forms, and other customer interaction points that provide transparency of customer needs and expectations. By addressing any issues quickly and effectively, businesses can ensure the highest level of customer satisfaction possible.

Ways to improve customer experience
Improving customer experience in e-commerce can be achieved in a number of ways. 
1: Ensure your website is easy to use and navigate.
Companies should focus on providing customers with a seamless and convenient shopping experience, from browsing and product selection to checkout and delivery.
2: Offer multiple payment options.
Customers want to be sure that their payment details are secure, and having an array of payment methods available allows them to choose the one that suits them best. Offering a variety of payment options can increase the likelihood of a purchase being made by accommodating customers who may not have the same payment preferences.
3: Provide a secure checkout process.
This can be achieved through the use of trusted payment gateways, clear step-by-step instructions, and data security measures such as encryption and tokenization. Taking these steps will help your business create a positive customer experience in e-commerce.
4: Offer customer service support 24/7.
Offering customer service support not only helps to build trust with customers but also ensures that any issues are quickly and effectively resolved. Your business can offer a variety of customer service support options, such as phone, email, or chat support, in order to ensure that customers are receiving the best possible experience.
5: Utilize customer feedback to gauge satisfaction and make improvements.
By actively listening to customer reviews and suggestions, businesses can identify areas of improvement and make necessary changes to better meet the needs of their customers. Additionally, customer feedback can be used to inform product design, marketing strategies, and even customer service approaches. 
6: Send personalized emails and follow-up messages.
Personalized emails and messages could include product suggestions, discounts, exclusive offers, or even thank-you messages after the customers have made a purchase. Doing so gives customers the feeling that they are being thought of and appreciated, which can help to improve customer relationships and foster loyalty.
7: Keep customers informed of new products and promotions.
By keeping customers in the loop on new products and promotions, businesses can increase customer satisfaction and loyalty, creating a positive customer experience that will keep them coming back for more. 
8: Offer free shipping or discounts for bulk orders.
These incentives are proven to increase customer satisfaction and can increase customer loyalty, as customers will be more likely to return to the same website if they receive a discount or free shipping on their orders. 
Tools to improve the digital experience
In today's digital-first world, the customer experience is often the deciding factor in the success or failure of a business. As such, businesses need to ensure that they have the right tools in place to provide a smooth and efficient digital experience. This can include a variety of solutions such as e-commerce platforms, online chat systems, and user-friendly website design. By leveraging these tools, businesses can ensure that their customers have a positive, seamless experience when interacting with the business online.


(a) Social Media Integration Tools

A social media integration tool provides software that allows you to manage all your brand's social media in one dashboard or application. This streamlined approach makes it easier for businesses to save time and effort when engaging with their customers online, as they no longer have to switch between multiple accounts. The result is a more efficient customer experience in e-commerce that can help businesses retain and attract customers.

Two of the most powerful social media management tools that can help provide customers with an enhanced e-commerce experience are Sprout Social and HootSuite.
With these, businesses can quickly respond to customer comments, questions, and messages while staying up to date with the latest trends in their industry. Additionally, the tools provide comprehensive analytics and reporting to help businesses measure their success on various social networks. As a result, businesses are able to identify areas for improvement in their customer experience.
(b) Remote Media Support Tools
As e-commerce continues to grow and evolve, businesses are looking for innovative ways to provide customers with the best possible experience. One such method is the use of remote video support tools, which allow customers to connect with customer service representatives via video chat.
This can help customers get their questions answered more quickly, while also allowing customer service reps to provide more personalized assistance. Remote video support tools are proving to be a powerful tool for enhancing customer experience in e-commerce, and more businesses are turning to them as a way of providing superior customer service. 
Zoho Assist and Blitzz are revolutionizing the customer experience in e-commerce by offering the best remote video support tool on the market. These innovative platforms enable customers to engage in real-time video conversations with customer service representatives, providing an interactive and engaging experience. With features such as screen sharing, co-browsing, and streaming, customers can receive personalized support without ever leaving their homes.
(c) Customer Relationship Management Tools
Customer Relationship Management (CRM) tools offer a variety of features to enhance the customer's online experience, such as automated customer service, marketing automation and data analytics. By utilizing CRM tools, businesses are able to gain deep insights into their customers' needs and preferences in order to provide personalized experiences and build lasting relationships.
Additionally, CRM tools allow businesses to create omnichannel strategies that provide customers with a seamless shopping experience across multiple channels. 
Salesforce HubSpot CRM, Oracle NetSuite and other CRM tools have become increasingly popular amongst businesses looking to improve their customer experience in e-commerce. These powerful tools provide businesses with the ability to manage customer data, track customer interactions and create automated marketing campaigns, all with the aim of helping businesses provide a better overall service to their customers. 
(d) Live ChatBot Tools
The use of Live Chat ChatBot tools has become increasingly popular in the e-commerce market, providing customers with a more personalized and efficient experience. These AI-powered chatbots are able to quickly and accurately answer customer inquiries, allowing e-commerce companies to engage customers in real-time while reducing the need for human customer service agents.
This provides customers with a better overall experience, as they can get their questions answered quickly and easily.
Chatbot tools like Tidio, Purechat, and Chatfuel are used to create and manage your chat efforts. These tools can provide customers with quick access to product information, availability, pricing, and more, allowing them to get the answers they need without having to wait for a customer service representative. Additionally, chatbot tools can also be used to send personalized messages to customers, helping build meaningful relationships with them and create a more memorable shopping experience.
Examples of companies acing the customer experience segment in e-commerce
Many companies have made great strides in improving their customers' experiences in the e-commerce space. From personalization to quicker shipping times, companies such as Amazon, Walmart, and Target have all gone above and beyond to make sure their customers are satisfied.
They have implemented chatbots and AI-driven customer service agents that can provide advice, answer questions, and provide personalized recommendations. They have also invested in faster delivery methods such as one-day and same-day shipping options to make sure customers get their items quickly. These companies have set the bar for customer experience in e-commerce and serve as an example for other companies to strive for. 

Apple's online store is another example of a company that is acing the customer experience segment. With intuitive product pages and helpful customer service agents, shoppers can easily find the product they need and get their questions answered quickly and efficiently. 

In today's world of e-commerce, personalization is key to a successful customer experience. 
How do you intend to personalize customer experience for your audience?
But how do you define your company's personalization purpose?
In the ever-evolving world of e-commerce, it is essential for companies to define their personalization purpose in order to create a positive customer experience. Personalization is the key to providing customers with a tailored, engaging experience that sets your business apart from competitors. By understanding what personalization means for your company and setting clear goals for how you want to use it, you can ensure that customers have an enjoyable shopping experience and are more likely to return.
Companies recognize that customers want an experience that is tailored to their needs, and as such, are implementing various strategies to ensure their customers receive the best experience possible. These strategies include leveraging customer data to create personalized product recommendations, providing easy checkout experiences, and delivering exceptional customer service. By focusing on personalization in e-commerce, companies are able to better meet their customers' needs, resulting in increased customer satisfaction and loyalty.