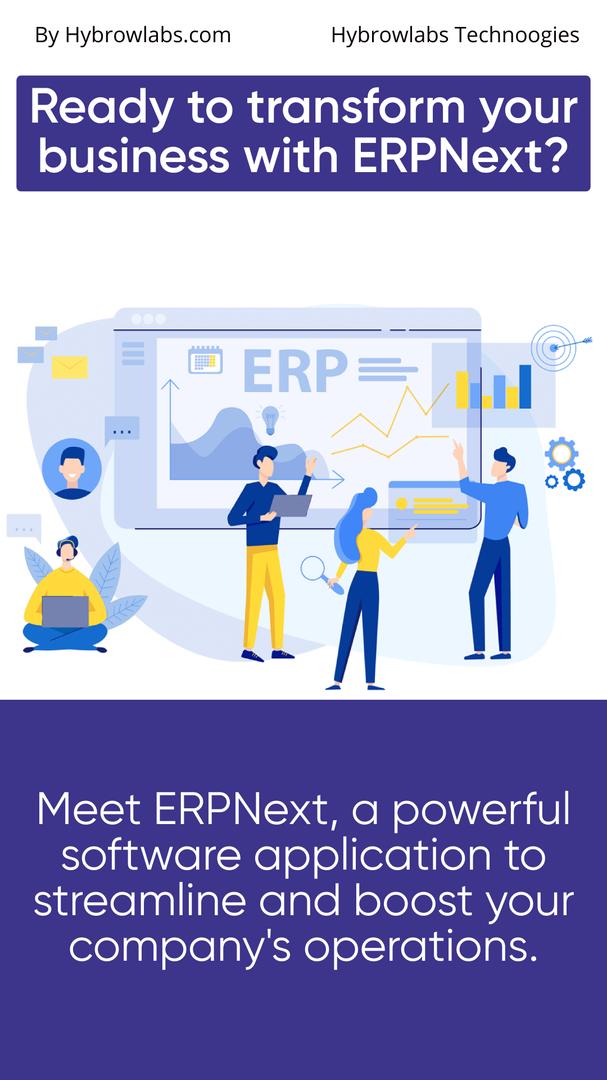 Are you considering implementing ERPNext in your company but unsure in implementing ERPNext in your company but unsure of what to expect from the procedure? Look nowhere else! ERPNext is a powerful software application that may help you streamline and boost the effectiveness of your company's operations. Yet, the implementation process can be difficult and daunting without adequate preparation and direction. In this article, you will be led through each step of the ERPNext implementation process, from planning and preparation to training and support. Get knowledge about ERPNext's advantages, what to take care of during the implementation process, and how to ensure a successful outcome. Get ready to transform your business with ERPNext!
Understanding ERPNext:
ERPNext is an open-source Enterprise Resource Planning (ERP) software that offers a range of features and functionalities to manage various business operations, such as accounting, inventory, project management, and human resources. It is designed to be highly customizable and easy to use, making it a popular choice for small and medium-sized businesses.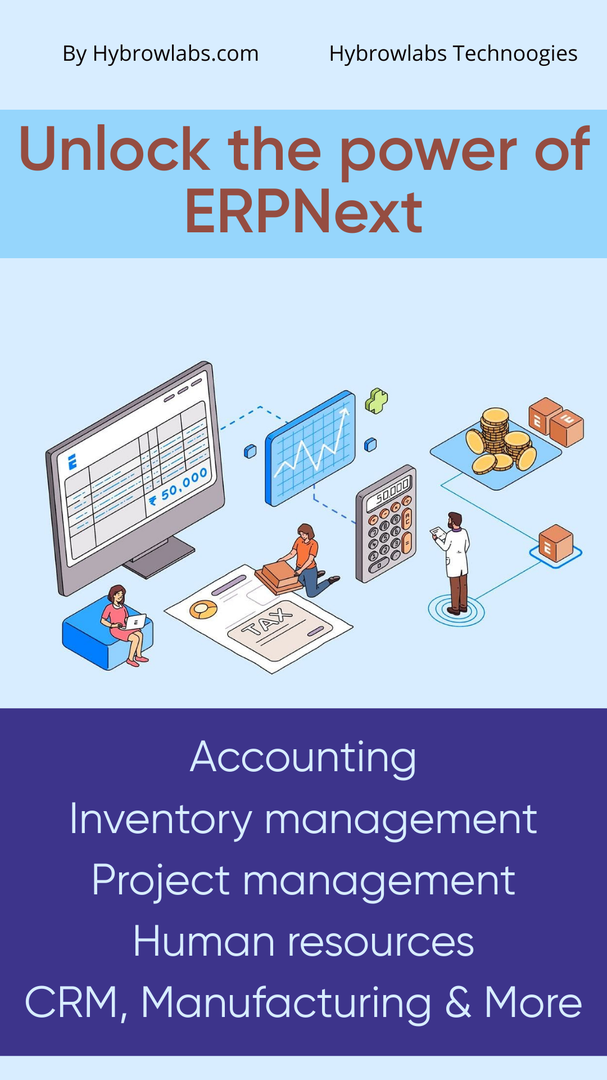 Features and functionalities of ERPNext. Let's have a look
Human resources
Reports and analytics
Let's explore how implementing ERPNext is advantageous: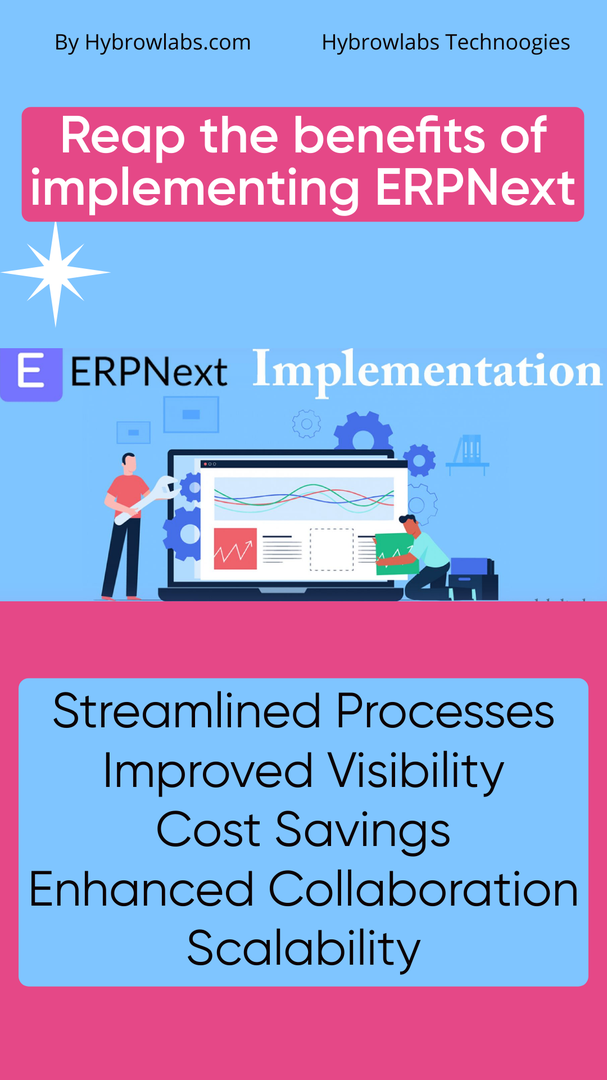 Implementing ERPNext can bring numerous benefits to an organization, including:
1. Streamlined Processes:
ERPNext can help corporate processes become more efficient and automated, minimizing manual labor and mistakes.
2. Improved Visibility:
ERPNext offers real-time data and analytics, enhancing corporate operations visibility.
3. Cost Savings:
ERPNext can lower expenses by streamlining procedures and eliminating waste.
4. Enhanced Collaboration:
ERPNext can improve collaboration between teams, enabling better communication and faster decision-making.
5. Scalability:
ERPNext can be easily customized and scaled to meet changing business needs.
ERP implementation best practices: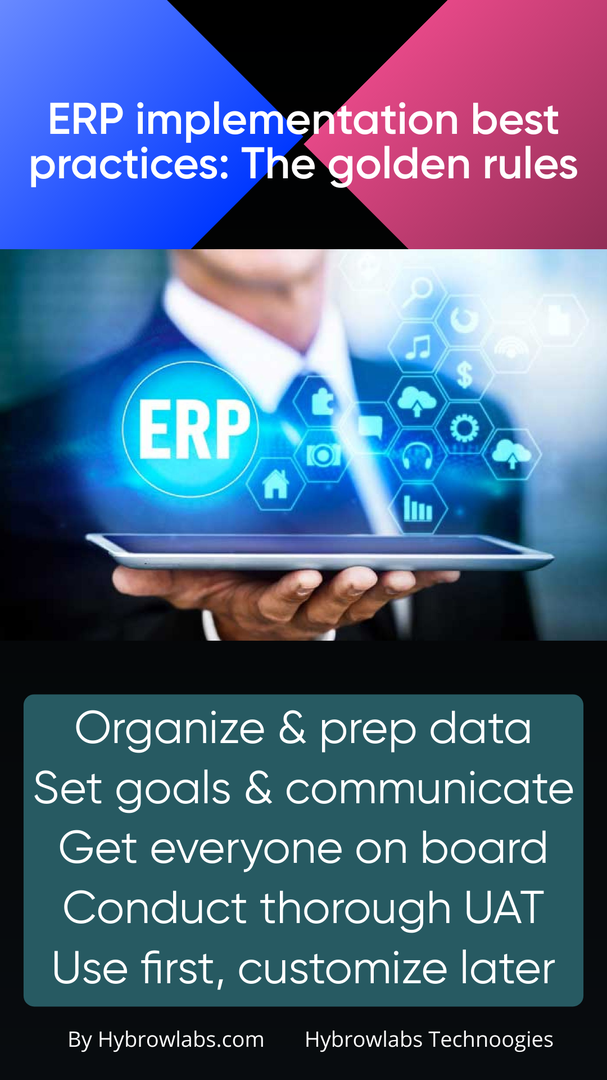 1. Keep your data ready:
Before implementing an ERP system, it is important to ensure that your data is clean, organized, and up to date. This will make the implementation process smoother and prevent any data-related issues from arising during or after implementation.
2. Be clear about your goals, communicate:
It is important to have a clear understanding of what you want to achieve with the ERP system and to communicate this to all stakeholders involved in the implementation process. This will ensure that everyone is working towards the same goal, and it will help to avoid any misunderstandings or miscommunications.
3. Make sure everybody is aboard:
Everyone in the organization needs to be on board with the implementation process. This includes employees, senior management, and any other stakeholders involved in the process. Ensuring that everyone is onboard will help ensure the implementation process runs smoothly, and that any issues that arise can be dealt with quickly and effectively.
4. Thorough UAT:
User Acceptance Testing (UAT) is an important part of the ERP implementation process. It involves testing the system to ensure that it meets the needs of the organization and that it is functioning as expected. It is important to conduct thorough UAT to identify and address any issues before the system goes live.
5. Use first, customize later:
It is important to use the out-of-the-box features of the ERP system before customizing it. This will help to identify any issues or areas for improvement, and it will ensure that the organization is getting the most out of the system before investing time and resources in customization.
Streamline Your Business with these 6 Simple ERP Implementation Steps:
The implementation of an ERP system is a difficult procedure that needs careful planning, carrying out, and monitoring. The six main steps in implementing an ERP are listed below:
1. Evaluating ERPs:
The first step is to compare several ERP software options and select the one that best suits the requirements of your firm. Determining the business requirements, locating suitable vendors, and evaluating each vendor's capabilities should all be part of the evaluation process.
2. Gap analysis:
After selecting an ERP system, you must carry out a gap analysis to see how well the Erp system satisfies your company's demands. Finding the functional gaps between your organization's needs and the ERP software is necessary for this.
3. Data migration:
You must get your data ready for data migration into the ERP system after the gap analysis. This include locating the data that needs to be migrated, cleaning it up, and making sure the data is in the right format.
4. Customization:
The ERP system must then be modified to meet the unique requirements of your firm. Configuring the system, changing workflows, and integrating it with other systems are all required for this.
5. Testing:
Before going live, you need to test the ERP system to ensure that it is functioning as expected. This involves conducting various tests, such as integration testing, performance testing, and user acceptance testing.
6. Go live:
The final step is to go live with the ERP system. This involves migrating your data into the ERP system, training your staff, and ensuring that the system is working properly.
Master the ERP Implementation Life Cycle: From Planning to Go-Live: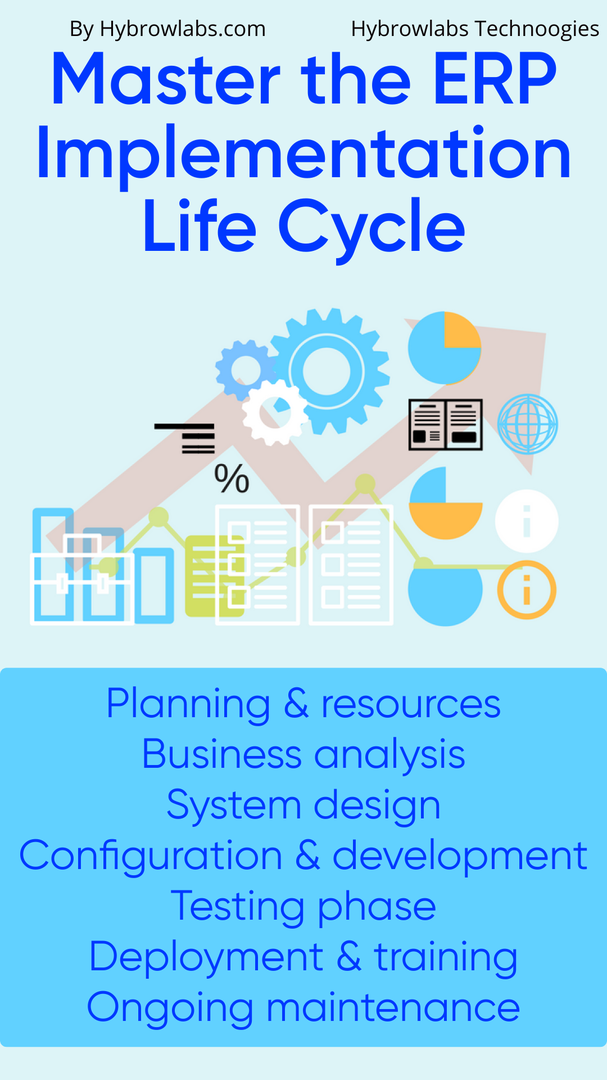 1. Planning:
The planning phase is the starting point of the ERP implementation life cycle. During this phase, the company needs to identify its goals and objectives, gather resources, and define the scope of the ERP implementation project.
For example, a manufacturing company may want to implement an ERP system to streamline its supply chain and improve inventory management. The company would then identify the resources required, such as hardware, software, and personnel, and define the scope of the project, such as which departments will be involved in the implementation.
2. Analysis:
The analysis phase involves a thorough assessment of the company's existing business processes to identify areas that need improvement.
For example, a company may realize that its sales team is not able to access the latest product information in a timely manner, leading to lost sales. Through the analysis phase, the company can identify this issue and look for ways to improve the sales process through the ERP system.
3. Design:
The design phase is where the ERP system is created and tailored to the unique requirements of the company. This involves selecting the appropriate modules and customizing them to meet the company's specific needs.
For example, a retail company may require a customized point-of-sale module that integrates with their online store and loyalty program.
4. Development:
During the development phase, the ERP system is constructed and configured. This involves creating the necessary databases, setting up user accounts, and configuring the software to work with the company's hardware and network.
For example, a company may need to configure the ERP system to work with their existing accounting software or integrate it with their production line.
5. Testing:
The testing phase is critical to ensure that the ERP system is functioning as expected. This involves conducting various tests to verify that the system is operating correctly and is free from errors.
For example, a company may conduct a user acceptance test to ensure that the ERP system meets the needs of its employees and is easy to use.
6. Deployment:
The deployment phase involves rolling out the ERP system across the organization and migrating data from legacy systems. This involves training employees on how to use the system, migrating data from old systems to the new ERP system, and ensuring that the system is running smoothly.
For example, a company may migrate customer data from its old CRM system to the new ERP system and train its sales team on how to use the new system to manage customer relationships.
7. Maintenance:
After the ERP system has been deployed, it requires ongoing maintenance and support to ensure that it continues to function properly. This involves monitoring the system for issues, updating software and hardware as needed, and providing user support.
For example, a company may need to update the ERP system to accommodate new products or services or provide additional training to employees to help them make the most of the system.
How Long Does an ERP Implementation Take?
Do you have questions regarding how long it would take to implement an Enterprise Resource Planning (ERP) system for your company? The truth is that it relies on a wide range of factors.
The length of time can vary depending on your organization's size, the complexity of your business operations, and the particular ERP software you decide to use.
It may take several months to a year or longer to establish ERP.
The required level of customization may have a big effect on the timeframe. An ERP solution that has already been created might be finished rather fast, while a fully customized system might take longer.
The level of preparation your organization has done prior to implementation can also impact the timeline. Thoroughly evaluating your processes and identifying your requirements can help make the implementation process smoother and faster.
It's important to allocate time for training your staff on how to use the new system and for working out any kinks that arise during the initial stages of use.
Companies that are benefited by implementing ERP: Some real life examples: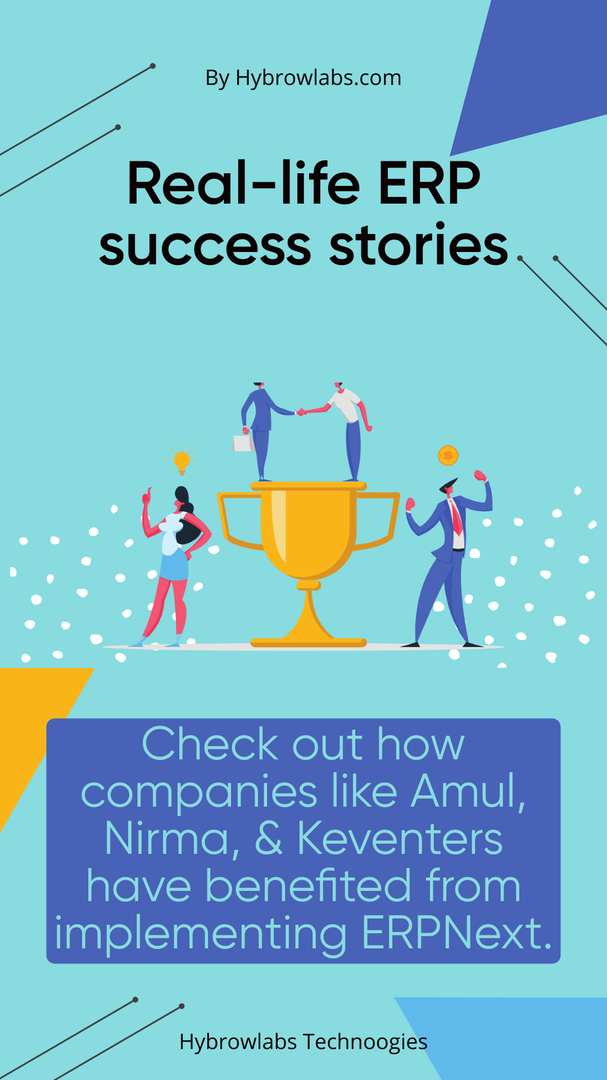 Sure, here are some companies that have implemented ERPNext and how they benefited from it:
1. Amul:
Leading Indian dairy producer Amul makes a variety of dairy products. To automate their production procedures and boost their quality and effectiveness, they used ERPNext. Amul was able to improve product quality, decrease waste, and optimize production schedules with the use of ERPNext. They were able to enhance overall output and lower production expenses as a result.
2. Nirma:
The well-known Indian detergent company Nirma makes a variety of laundry solutions. To make its sales and distribution procedures more efficient, they used ERPNext. ERPNext allowed Nirma to track sales data in real-time, increase order fulfilment rates, and shorten lead times. They were able to raise overall revenue and boost consumer satisfaction as a result.
3. Keventers:
A well-known milkshake company in India called Keventers runs a network of shops all over the nation. To streamline retail operations and enhance the shopping experience, they used ERPNext. Keventers was able to monitor sales data, control inventory levels, and optimize store layouts with the use of ERPNext. As a result, they were able to boost revenue and raise customer satisfaction levels.
Conclusion:
In conclusion, an ERPNext implementation process can take some time, but the benefits can be significant. With careful planning and consideration, you can expect streamlined processes, improved visibility into business operations, and increased efficiency. It's important to allocate time for training your staff and ongoing maintenance to ensure your ERP system continues to meet your organization's changing needs. If you're looking for expert assistance in implementing an ERPNext system, consider exploring Hybrowlabs ERPNext Development Services and Hybrowlabs Manufacturing ERPNext Services. Overall, implementing an ERPNext system can help take your organization to the next level and help you achieve your business goals.
FAQ's
1. What can I expect from the ERPNext implementation process?
You can expect a complete evaluation of your business processes during an ERPNext implementation, followed by system configuration, data migration, testing, training, and finally, go-live.
2. How long does it usually take to implement ERPNext?
The size and complexity of your business operations, the level of customization required, and the availability of resources are some of the variables that affect how long an ERPNext implementation process takes. An ERPNext implementation typically lasts between a few weeks and several months.
3. How long does an ERPNext implementation take?
It depends on factors like the size and complexity of your business, but it can take from a few weeks to several months.
4. What are the benefits of ERPNext implementation?
Benefits include streamlined operations, improved visibility, scalability, cost savings, and enhanced customer satisfaction.


5. What are the challenges of ERPNext implementation?
Challenges include change management, data migration, and customization.